Six ways to build an army of social advocates
Don't Ignore Employee Advocacy in Your Influencer Marketing Strategy
Geoffrey Colon, Communications Designer at Microsoft
May 17, 2016
Geoffrey Colon, author of "Disruptive Marketing" (2016), explains why your biggest influencers work within your company.
https://www.linkedin.com/pulse/dont-ignore-employee-advocacy-your-influencer-marketing-colon?trk=prof-post
10 Companies All Marketers Should Watch in 2016 and Why
Geoffrey Colon, Communications Designer at Microsoft
January 7, 2016
Geoffrey Colon, author of "Disruptive Marketing" (2016), presents a list of companies to watch this year, and explores why Sociabble is leading the way in employee advocacy.
https://www.linkedin.com/pulse/10-companies-all-marketers-should-watch-2016-why-geoffrey-colon
Nie bądź głupi – zaangażuj pracowników w media społecznościowe
What are the 10 Types of Must-Have Social Media Tools for Business?
Por qué convertir a los empleados en embajadores de tu marca en redes sociales?
Twitter : des ambassadeurs et des évangélistes
Laat je medewerkers je boodschap verspreiden
Brainsonic launches Sociabble, a platform dedicated to employee engagement on social networks
Brainsonic launches Sociabble, an online service that allows companies to gain visibility on social networks by engaging their best ambassadors: their employees.
Paris, June 11, 2014 – Brainsonic launches a new platform in the cloud, Sociabble, dedicated to employee engagement for companies on social networks such as Facebook, Twitter, Linkedin and other networks. All social enterprise content together on one interface dedicated to sharing Sociabble collects, on a single visual interface, all your company's posts on social networks; it is also possible to populate the interface with content from relevant blogs or other publications, pulled in through RSS. Employees can then, in one click, share the content on their own accounts on Facebook, Twitter, and LinkedIn among others. Gamification system to encourage sharing The application also includes a gamification system, so that employees earn points for each share. Sociabble provides a dashboard to track the spread of content, a space to create challenges between employees or teams of employees, and even manages campaigns to assigning point values to different content to favor some posts over others. More reach, but also with more trust and engagement Taking into account the fact that each employee has on average of a several hundred contacts on different social networks, the ability for companies to convert their employees' into ambassador can be quite beneficial. Considering that only about 36 % of users trust advertising on social networks , but 92 % confidence content recommended by someone in they know (source: dwinq ), the reason for tapping into the power of employee ambassadors becomes evident . Thus, a company with 1000 employees can potentially reach hundreds of thousands of people on social networks, while at the same time accompanying that reach which higher consideration. Sociabble launches in Europe and in the United States, where Brainsonic recently opened a branch (New York). Microsoft France is among the first customers of Sociabble. The platform is available online at sociabble.com/, where a trial version is available. Sociabble have been developed on the Cloud provided by Microsoft Azure.   About Brainsonic: www.brainsonic.com Brainsonic delivers business-oriented digital ROI solutions and commitment to marketing and communication. Brainsonic is a "Blended Agency" closely combining editorial, creative and technical skills through the provision of services and software platforms. Brainsonic attracts and retains more than 200 large companies such as Accenture, Airbus, AXA, Bouygues, Canal +, EDF, France Televisions, L'Oréal, Microsoft, Societe Generale, Sodexo. Press Contact: Marylin Montoya –  +33 (0)1 58 28 13 92 –marylin.montoya@brainsonic.com
Avec Sociabble, Brainsonic transforme les collaborateurs en ambassadeur
http://www.lemondeinformatique.fr/actualites/lire-avec-sociabble-brainsonic-transforme-les-collaborateurs-en-ambassadeur-57777.html
Le 13 Juin 2014
Avec Sociabble, Brainsonic transforme les collaborateurs en ambassadeur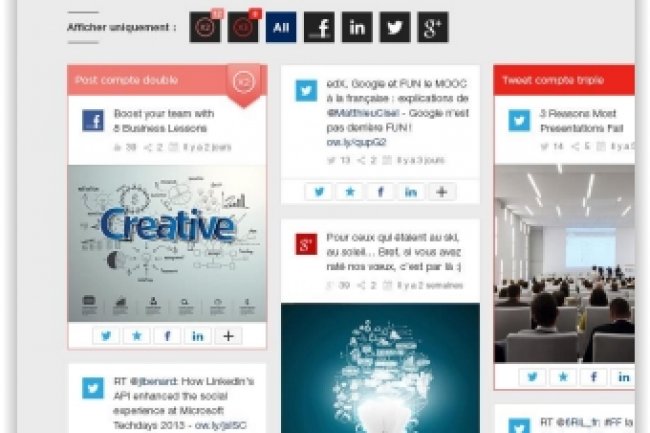 Sociabble regroupe dans une interface l'ensemble des commentaires, messages, publications et tweets de l'entreprise. (crédit : D.R.)
La dernière plate-forme cloud de Brainsonic permet aux collaborateurs de pousser facilement les posts et tweets de l'entreprise vers leurs propres réseaux sociaux. Un système de gamification est présent pour favoriser l'engagement.
Comment faire de ses collaborateurs des ambassadeurs de son entreprise ? Une question que de nombreux community managers et responsables marketing se sont sans doute posés et à laquelle Brainsonic veut apporter une réponse. La société spécialisée dans le conseil et la mise en oeuvre de solutions technologiques et numériques a ainsi lancé Sociabble, une plateforme SaaS permettant de centraliser dans une interface l'ensemble des posts de l'entreprise (Facebook, Twitter, LinkedIn, blogs…) et de permettre à leurs collaborateurs de les partager en un clic sur leurs propres comptes sociaux.
Sociabble intègre par ailleurs un système de gamification permettant de faire gagner aux collaborateurs à chaque partage. Un tableau de bord permet également de suivre la propagation des contenus, de créer des challenges entre collaborateurs ou par équipes ou encore de gérer des campagnes pour favoriser la propagation de certains contenus. « Tenant compte du fait que chaque collaborateur a en moyenne plusieurs centaines de contacts sur les différents réseaux sociaux, la capacité des entreprises à convertir leurs employés en ambassadeur est fondamentale », explique Brainsonic. La tarification de cette solution débute à 2 euros par mois et par utilisateur, dégressif en fonction du nombre d'utilisateurs. Sociabble est lancé aux Etats-Unis et en Europe avec en France des premiers utilisateurs comme Microsoft.